Commerce Secretary Thanks DoD Manufacturing Innovation Institute for COVID-19 Response
America Makes Receives $1.4m Grant to Expand Production Capacity
YOUNGSTOWN, Ohio – Secretary of Commerce Wilbur Ross visited the Department of Defense Manufacturing Innovation Institute (MII) America Makes July 1 to announce a $1.4 million grant from the National Institute of Standards and Technology. This grant will assist America Makes' work with small and medium-sized manufacturers, enabling them to adequately address current personal protective equipment shortages and prepare for future crises.
"Thank you for your swift action in rebuilding our medical and protective equipment supply chains as a result of the COVID-19 emergency," said Ross during his remarks. "You teamed up with Veterans Affairs, the U.S. Food and Drug Administration, and the National Institutes of Health to optimize 31 PPE designs for clinical use, including 28 for production by the additive manufacturing community. This was no small feat, and I congratulate each of you for what you have accomplished here in Youngstown, and across the Manufacturing USA network."
Ross also got a direct view of the thriving additive manufacturing ecosystem developed in Youngstown through the work of America Makes and its partners, the Youngstown Business Incubator and Youngstown State University. He also witnessed firsthand how U.S. companies ramped up innovation to help bridge shortfalls in manufacturing supplies needed by the country's medical community.
The DoD has established eight MIIs to address commercial and defense manufacturing needs within defense-relevant technology areas. The MIIs benefit from active participation and support from the military departments and defense agencies. The Institutes' flexible business models and strong focus on enabling highly-collaborative research and development catalyze important new organizational relationships across government, industry and academia.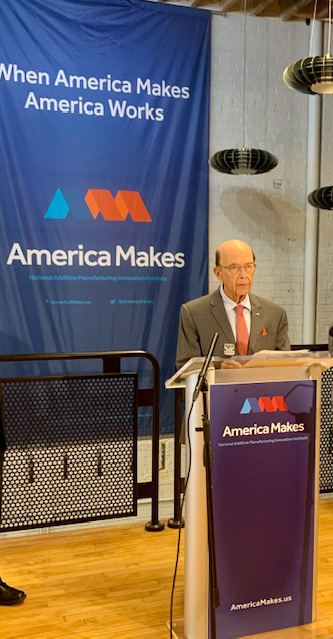 Commerce Secretary Wilbur Ross delivers remarks after a tour of the America Makes and Youngstown Business Incubator facilities.
America Makes, established in 2012 and a member of the Manufacturing USA network, is a public-private partnership with a mission to accelerate the adoption of additive manufacturing (e.g., 3D printing). Thus far in the U.S., DoD has invested more than $61 million in initial funding and $78.5 million in additional projects with America Makes directly focused on DoD needs. DoD and America Makes are also key facilitators in developing industry-wide standards and specifications. Connecting warfighters to 3D models supports replicability of production in the field.
Commerce Secretary Wilbur Ross is shown samples of parts that can be produced with the additive manufacturing process, and materials they are made from, demonstrating the intricate, customizable variations that can be applied to polymer or metal materials.
Over the last eight years, America Makes' work to develop new materials and processes, design tools, and training and education models has prepared the industrial base to adopt and implement additive manufacturing. In turn, this has equipped the Institute's more than 200 members in industry and academia to rapidly respond to the COVID-19 pandemic and the subsequent disruptions to traditional medical supply chains.
"Since the beginning of the pandemic, we have seen additive manufacturers across the country respond to deliver safe and effective PPE, showing how AM can be the solution to help solve critical supply chain gaps," said John Wilczynski, America Makes executive director.
America Makes has helped manufacturers navigate approved PPE designs and connected them with healthcare providers. The NIH 3D Print Exchange, a central repository for design information, logged 493,000 unique visitors; 95,743 downloads; and over 1,112,651 views since March 2020.