DoD Announces New Cyber Resilient Weapon Systems Body of Knowledge Portal
The Strategic Technology Protection and Exploitation (STP&E) Office in the Office of the Under Secretary of Defense for Research and Engineering announces the launch of the Cyber Resilient Weapon Systems Body of Knowledge (CRWS-BoK) Portal.
The CRWS-BoK Portal provides a comprehensive repository of authoritative guidance and knowledge for science and technology (S&T) professionals who specialize in cyber resilient weapon systems. Engineers, S&T program managers, and researchers from Department of Defense (DoD), government, industry, and academia will be able access, search, annotate, save, and share the engineering information they need to develop, maintain, and monitor secure, cyber resilient weapon systems programs.
STP&E's Resilient Systems directorate, under the leadership of Resilient Systems Director Melinda Reed, designed and developed the CRWS-BoK Portal. Resilient Systems will continually update the Portal with curated guidance so that it remains a living, informative resource.
Resilient Systems partners with engineers, S&T managers, and researchers from across DoD, Federal Government, industry, and academia to foster assured resilient missions, systems, and components. Resilient Systems' initiatives leverage best practices and foster innovation that enables the Nation's S&T workforce to engineer cyber resilient weapon systems that can successfully operate in the face of cyber threats.
---
For additional information and to register for an account, access the CRWS-BoK Portal at https://crws-bok.org. The site is optimized for Chrome, Firefox, Edge, and Safari browsers.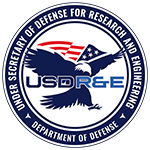 Office of the Under Secretary of Defense,
Research and Engineering (OUSD(R&E))
3030 Defense Pentagon, Washington, DC 20301-3030