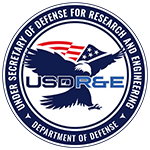 DoD Chief Technology Officer Delivers First Congressional Testimony
Under Secretary of Defense for Research and Engineering Heidi Shyu testified before the Senate Armed Services Committee's Emerging Threats and Capabilities subcommittee on April 6, 2022. It was the first Congressional testimony Shyu provided since being confirmed in her current position in July, 2021.
Updates from Across the R&E Enterprise
May 20, 2022

---

The Deputy Chief Technology Officer for Science and Technology in the Office of the Under Secretary of Defense for Research and Engineering (OUSD(R&E)) is pleased to announce the first quarter Fiscal Year 2022 winners.
May 13, 2022

---

The DoD announced today $14.6 million in DEPSCoR awards to 23 collaborative teams following two FY2021 competitions. DEPSCoR is a capacity-building program that is designed to strengthen the basic research infrastructure at institutions of higher education in under-utilized states/territories.
May 4, 2022

---

The DoD 5G-NextG Initiative hosted a 5G Smart Warehouse Network ribbon-cutting ceremony at Naval Base Coronado last week.
April 22, 2022

---

The Department of Defense announced today an "Innovation Pathways" website providing a "one-stop shop" for the DoD innovation ecosystem. Located at www.ctoinnovation.mil, the site serves as a gateway to the Department's efforts to bring in new ideas and technology, with a special focus on students, universities, and businesses.
February 28, 2022

---

The Space Development Agency (SDA) today announced the awards of three prototype agreements worth approximately $1.8 billion to establish the foundation for Tranche 1 Transport Layer (T1TL), a mesh network of 126 optically-interconnected space vehicles (SV) that will provide a resilient, low-latency, high-volume data transport communication system, and be ready for launch starting in September 2024.
February 14, 2022

---

The Engineering of Defense Systems Guidebook and Systems Engineering Guidebook replace Chapter 3, Systems Engineering, of the Defense Acquisition Guidebook. The Engineering of Defense Systems Guidebook describes the activities, processes, and practices involved in the development of DoD systems. The guidebook aligns with the engineering disciplines covered in DoD Instruction 5000.88, Engineering of Defense Systems, and focuses on recommended engineering best practices for the DoD Adaptive Acquisition Framework acquisition pathways.

The Systems Engineering Guidebook provides systems engineering guidance and recommended best practices for defense acquisition programs. It is intended for Program Managers and Systems Engineers and may be tailored for programs in any of the DoD Adaptive Acquisition Framework pathways (DoD Instruction 5000.02). Programs can use the guidebook, along with other acquisition business resources, to plan and execute program systems engineering activities across the system life cycle.

See Engineering References for Program Offices for links to the guidebooks.
February 2, 2022

---

The OUSD(R&E) will spearhead a National Defense Science and Technology strategy for the DoD, informed by the 2022 NDS and structured around three strategic pillars: mission focus, foundation building, and succeeding through teamwork. This technology strategy will chart a course for the United States' military to strengthen its technological superiority amidst a global race for technological advantage.
January 26, 2022

---

The Acting Director of Defense Research and Engineering for Research and Technology (DDRE(R&T)) in the Office of the Under Secretary of Defense for Research and Engineering (OUSD(R&E)) is pleased to announce the fourth quarter Fiscal Year 2021 winners.
January 25, 2022

---

DoD announced today release of an updated Unmanned System (UxS) Safety Engineering Precepts Guide for DoD Acquisition, dated August 2021, created by a joint effort of the DoD Offices of the Under Secretaries of Defense for Research and Engineering (OUSD(R&E) and Acquisition and Sustainment (OUSD(A&S). The Guide was updated to better support Service safety reviews and the design and development of safe UxSs and associated firmware, hardware, and safety significant software.
January 19, 2022

---

The Joint Hypersonic Transition Office (JHTO) University Consortium for Applied Hypersonics (UCAH) hosted a student meet and greet at the American Institute for Aeronautics and Astronautics (AIAA) SciTech Forum in San Diego, California, on January 5, 2022.
The Under Secretary of Defense for Research and Engineering Brand Guide provides guidelines to ensure consistency in the use of the USD(R&E) logo throughout the Department.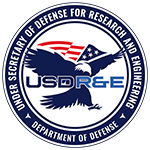 Office of the Under Secretary of Defense,
Research and Engineering (USD(R&E))
The Pentagon, Washington, DC 20301