The DoD Announced Awards of $20K each for the 2021-2022 Cohort of the Minerva-USIP Peace and Security Dissertation Fellows
The Department of Defense Minerva Research Initiative is pleased to announce the 2021-2022 cohort of the Minerva-USIP Peace and Security Dissertation Fellows. In partnership with the U.S. Institute of Peace's Jennings Randolph Peace Scholar Dissertation Fellowship program, over 115 applicants from 88 U.S. universities applied for this prestigious award. Those chosen for the Peace and Security Scholar Fellowship show great potential to advance the peacebuilding and security fields and to positively influence policy and practice.
Since 2016, the Minerva Research Initiative has joined with the U.S. Institute of Peace to award non-residential fellowships to students enrolled in U.S. universities, supporting careers in research, teaching, and policymaking. Minerva Research Initiative fellowships support basic research contributions related to broad concerns of conflict management and peacebuilding, including security and stability.
The 2021-2022 Peace Scholar Dissertation Fellows include:
Minerva-Funded Minerva-USIP Peace and Security Scholars
Peyman Asadzade (Arizona State University), "Diplomatic Support for Protest Movements: Causes, Effectiveness, and Consequences."
Nejla Asimovic (New York University), "Growing Closer or Further Apart: Exposure to Social Media in Post-Conflict Societies."
Zenobia Chan (Princeton University), "Affluence without Influence? Understanding Positive Economic Statecraft and Influence in International Politics."
Jiwon Kim (Stanford University), "Security, Identity, and Minority Politics: Explaining Ethnic Mobilization in Post-conflict Elections."
Casey Mahoney (University of Pennsylvania), "How Friends Fight: International Alliances, Military Technology, and Intra-Alliance Bargaining in the Shadow of Conflict."
Aidan Milliff (Massachusetts Institute of Technology), "Seeking Safety: The Cognitive and Social Foundations of Behavior During Violence."
Dijana Mujkanovic (University of Pittsburgh), "Conflict Prevention and Transformation: A Study of the Effects of Contact between Ethnic Groups in Israel and Bosnia and Herzegovina."
Paul Orner (University of Southern California), "The Logics of Chinese Strategy: How the PRC Undermines American Security Partnerships."
Faizaan Qayyum (University of Illinois – Urbana-Champaign), "Dis-placemaking: Ethnicization of Afghan lives in Quetta, Pakistan."
Mashal Shabbir (American University), "Rebelling Against the Rebellion: Explaining the Magnitude of Insurgent Group Disintegration."
Aaron Stanley (City University of New York), "Local Conceptions and Perceptions of Legitimacy in Post-Conflict States."
Olivia Woldemikael (Harvard University), "South-South Migrants, Refugees, and Hosts: Lessons of Tolerance from Uganda and Colombia."
The Minerva initiative has a unique relationship between Research and Policy within DoD. As such, leadership across the department collaborate to identify and support basic social science research issues in need of attention and then integrate those research insights into the policy-making context. In doing this, the leadership team closely works with the program managers within the Air Force Office of Scientific Research and the Office of Naval Research.
Please join us in congratulating these distinguished Ph.D. candidates on this accomplishment.
---
About OUSD(R&E)
The Office of the Under Secretary of Defense for Research and Engineering (OUSD(R&E)) is responsible for the research, development, and prototyping activities across the Department of Defense. OUSD(R&E) fosters technological dominance across the DoD, ensuring the unquestioned superiority of the American joint force. Learn more at www.cto.mil/ or follow us on Twitter: @DoDCTO.
To learn more, visit the US Institute of Peace Collaboration webpage.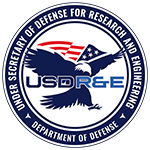 Office of the Under Secretary of Defense,
Research and Engineering (OUSD(R&E))
3030 Defense Pentagon, Washington, DC 20301-3030