DoD Public-Private Partnerships Focus on Manufacturing Innovations to Fight COVID-19 and Build the Industrial Base
Department of Defense (DoD) Manufacturing Innovation Institutes (MIIs) — public-private partnerships established by the Office of the Secretary of Defense Manufacturing Technology (OSD ManTech) Program, under the Office of the Undersecretary of Defense for Research and Engineering (OUSD(R&E)) —  convene critical, groundbreaking work that helps in the fight against COVID-19 and builds and strengthens the U.S. industrial base. Two recent reports produced by Manufacturing USA®, the interagency network united to drive advancement in manufacturing technology and workforce skills, highlight some of the MIIs' current accomplishments.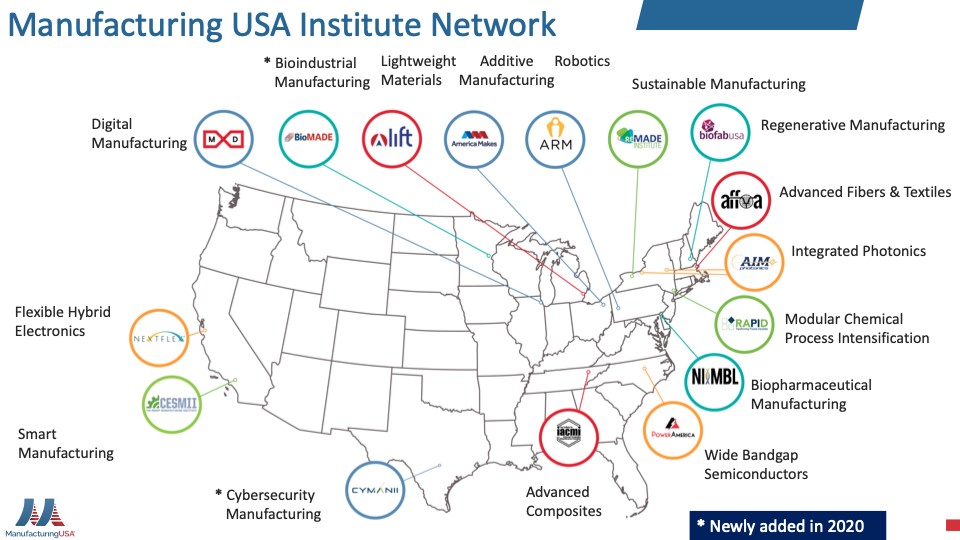 The OSD ManTech Program sponsors nine MIIs that bring together stakeholders from government, industry, and academia through the MIIs' headquarters and hubs across the country.  Each institute serves to help American manufacturing innovators overcome challenges in a variety of technology areas. While each institute operates in its own unique ecosystem, the institutes as a network offer common capabilities that:
Provide access to state-of-the-art tools and equipment that are otherwise beyond the reach of most businesses
Implement targeted education and workforce development training programs
Encourage project investments in applied research and industrially-relevant manufacturing technologies
The DoD MIIs' projects and programs are game-changing catalysts that serve as connective tissue, uniting innovative industrial ecosystems with emerging technology and market sectors in the United States.  Convening this network of visionaries enables DoD to connect with the ecosystem needed to bring new technologies to U.S. Warfighters. With a combined $1 billion in initial and follow-on Federal investment and $1.74 billion in matching funds from industry, academia, and state governments, the institutes have convened a network of over 1,270 organizations across the defense industry; commercial manufacturers of all sizes; start-ups; universities; community colleges; and state/local economic developers in active partnership with the U.S. Federal Government.
DoD MII accomplishments were highlighted in the recently released reports, "Manufacturing USA Rapid Response to COVID-19 Report" and "Manufacturing USA 2019/2020 Highlights Report".
The "Manufacturing USA Rapid Response to COVID-19 Report" details how the institutes mobilized the flexibility, knowledge, and skills of their nationwide membership to address medical supply chain gaps and develop rapid solutions to supply challenges. The DoD MIIs are executing 36 projects to aid the Nation's response to the pandemic, funded through $73 million in Coronavirus Aid, Relief, and Economic Security (CARES) Act funds from DoD and the Department of Commerce (DOC).
For example, one DoD MII project directly connects medical providers with free, downloadable personal protective equipment (PPE) designs, while multiple robotics-centered projects address manufacturing challenges such as diagnostics and decontamination of spaces. Other projects focus on tracking PPE demand in response to COVID-19 case surges; designing a platform for supply chain risk management; and implementing a roadmap for coordinated manufacturing response and recovery.
On March 24, 2021, representatives from MII member organizations briefed the institutes' successes to Congress and members of the public, summarizing the MIIs' direct contributions to the fight against COVID-19.
The "Manufacturing USA 2019/2020 Highlights Report," released on February 25, 2021, provides an in-depth look at how the DoD MIIs and other Manufacturing USA institutes helped advance U.S. manufacturing in 2019-2020.  DoD is working with Manufacturing USA to release an updated report for 2021 that will be made available prior to an upcoming, yet-to-be scheduled live webinar event hosted by the American Society of Mechanical Engineers.  To stay informed on event details and scheduling, visit https://www.asme.org/conferences-events/events.
---
About Manufacturing USA The DoD MIIs are members of Manufacturing USA, along with institutes sponsored by the Departments of Commerce (DOC) and Energy (DOE). Each agency's MIIs execute a unique mission and pursues objectives to advance critical technologies, strengthen the U.S. industrial base, and improve American manufacturing education and workforce development.  With funding and oversight from these Federal Agencies, the institutes address today's manufacturing challenges by bringing together a consortium of Federal partners, thousands of small manufacturers, two-thirds of all Fortune 50 U.S. manufacturers, and nearly every top-ranked research and engineering university in the country.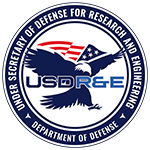 Office of the Under Secretary of Defense,
Research and Engineering (OUSD(R&E))
3030 Defense Pentagon, Washington, DC 20301-3030