Q1 FY21 Laboratory Scientist, STEM Advocate, and T2 Advocate Awards
The Director of Defense Research and Engineering for Research and Technology (DDRE(R&T)) in the Office of the Under Secretary of Defense for Research and Engineering (OUSD(R&E)) is pleased to announce the first quarter (Q1) Fiscal Year 2021 (FY21) winners of the following awards:
Department of Defense (DoD) Laboratory Scientist of the Quarter

Dr. John Bennewitz, U.S. Air Force Research Laboratory (AFRL)

Dr. Bennewitz is a recognized Rotating Detonation Rocket Engine (RDRE) subject matter expert. His recent, notable RDRE work includes conducting 100 RDRE hot fire tests in less than two months' time; designing and managing a detonation physics laboratory to address a unique RDRE research challenge; and championing improved laboratory practices and numerical models shared with 11 universities from 3 different countries. His technical leadership continues to enhance U.S. Air Force and DoD research and development programs.

DoD Science, Technology, Engineering, and Mathematics (STEM) Advocate of the Quarter

Dr. Oluseyi Ayorinde, U.S. Army Combat Capabilities Development Command (DEVCOM) Army Research Laboratory (ARL)

Dr. Ayorinde, an electronics engineer, is a passionate STEM advocate in his Southern California community. He serves as a professional mentor to undergraduate research apprentices and leads the Gains in the Education of Mathematics and Science summer enrichment program for middle and high school students. His expansive community outreach focuses on providing STEM education and opportunities to underserved and underrepresented communities.

DoD Technology Transfer (T2) Advocate of the Quarter

Mr. David Lee, U.S. Army Combat Capabilities Development Command Development Command Armaments Center (DEVCOM AC)

Mr. Lee, a technology transfer specialist, successfully established multiple Cooperative Research and Development Agreements (CRADAs) with international companies from allied and partner nations that provide critical engineering knowledge to the DEVCOM AC. He developed these partnerships through extensive relationship building, careful negotiation, and extreme attention to detail to ensure compliance with export control regulations. His trailblazing efforts in executing these international CRADAs will strengthen DoD's ability to access and build on our allies' and partners' research and development expertise.
"I am impressed with the caliber of award nominations that DDRE(R&T) received, and I am especially proud of our outstanding awardees Dr. Bennewitz, Dr. Ayorinde, and Mr. Lee," said Dr. JihFen Lei, Principal Deputy and Acting Director of Defense Research and Engineering for Research and Technology. "We are thrilled to recognize their excellent contributions to the Department and the Nation, amplify the DoD Science and Technology innovation enterprise, and build the next generation of STEM leaders."
Each winner will have an opportunity to present their work at an upcoming DoD Innovators' Spotlight Series virtual webinar. These webinars are open to the public. To learn more and register for an upcoming Spotlight Series webinar, visit https://dodstem.us/meet/innovators/.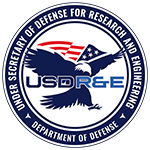 Office of the Under Secretary of Defense,
Research and Engineering (OUSD(R&E))
3030 Defense Pentagon, Washington, DC 20301-3030